Posted by Wally Londo on 27th July 2009
One reason the Florida Marlins are still in contention is that NL batting leader Hanley Ramirez is doing a much better job this season of hitting in clutch situations.

Ramirez drove in three runs with a pair of two-out hits, leading Florida to an 8-6 victory over the Los Angeles Dodgers on Sunday and helping the Marlins win their third straight series at Chavez Ravine.

Ramirez was 2 for 4, raising his career average at Dodger Stadium to .344. He's hitting .348 overall this season and .427 with runners in scoring position — second in the majors. Last season, the two-time All-Star shortstop had a .239 average in that department.

"He led off his first three years in the major leagues and won a Silver Slugger. Now we've put him in the three hole and he's driving in runs," manager Fredi Gonzalez said. "This guy can do anything on the baseball field. If you ask him to play center field tomorrow, he may win a Gold Glove. He's that talented."

Chris Volstad (8-9) allowed four runs and eight hits in 5 1/3 innings. The 22-year-old right-hander was helped by three double plays, one of them in the first when Orlando Hudson took off from first base on Andre Ethier's long drive to center fielder Cody Ross and couldn't get back in time after having to retouch second.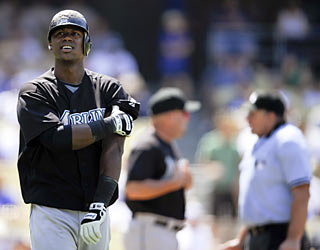 Hanley is not a fan of getting hit, but he did take home his first CCHOTGA for his troubles.
Tempted to give the Hero award to Burke Badenhop for protecting Hanley, who has been vocal about teams going after him this season. He's been hit 5 times and has made sure everyone knows he's unhappy with it. Good to see Burke protecting the star. He said after the game he "let one get away", but we know better. Hat tip to Burke.
I didn't actually get to watch any of this series, but it's nice to see the team take two of three, though would've liked to have held on Saturday for the sweep. Either way, a 5-1 road trip has them 3.5 heading into a big series against the Braves this week. I'll probably be at at least one of the games, maybe more, and hopefully there's a decent crowd.
Every series from here on out is big, but if the team can take care of the Braves by Thursday, don't be surprised to see a move on the trade deadline on Friday. Here's to hoping they put up a better fight than they did against the Phils last week.
Tags: Burke Badenhop, Florida Marlins, Hanley Ramirez, Los Angeles dodgers, Win
Posted in Florida Marlins, Post game, Win | No Comments »