Posted by Wally Londo on 19th July 2009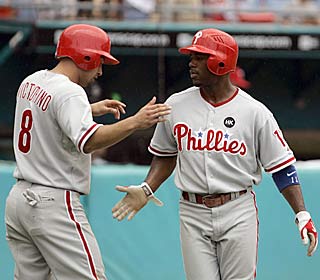 MIAMI — The Philadelphia Phillies finished with a flourish Sunday. As Jimmy Rollins squeezed a routine popup for the final out, he delivered a one-legged dance kick.

With that, the Phils waltzed back to Philadelphia riding their longest winning streak in three years.

Unbeaten rookie J.A. Happ pitched seven innings and the first-place Phillies won their eighth game in a row by beating the Florida Marlins 5-0.

Happ (7-0) escaped a bases-loaded, none-out jam in the sixth to help the Phils win for the 12th time in the past 13 games. The winning streak is their longest since taking nine in a row April 30-May 9, 2006.

"We have a lot of confidence, and I have a lot of confidence in the guys," Happ said. "It makes it fun to have them go out there behind me."

Happ helped himself with a two-out single to start a three-run rally in the second inning. Rollins had three hits by the third and came within a home run of the cycle, while Raul Ibanez doubled home two runs to help the Phillies complete their second three-game sweep in Miami this season.
Marlins got swept by the Phillies on sunday, scoring just 4 runs in the 3 game rain shortened series, with all of those coming on Friday night.
The chicken littles are coming out and saying the season is pretty much over with the Marlins falling 7 games back of the Phils, but the fact remains they are just 4.5 back in the Wild Card and there is a ton of baseball left.
Sure, it was a disheartening way to lose a series, with almost nothing going right (and our best chance to win, Josh Johnson's start, was cut short by rain; more on that later), but the only thing that is over is the series. At some point, they've got to turn it around against the Phillies, they aren't that much better than the Marlins.
It's a shame that the first three games we've covered on this blog have featured the Scott Olsen Mugshot Memorial Award, but we've gotta give it out after today, so receiving their second of the year is the collective known as the Marlins offense.  Andrew Miller looked like a surefire winner following his 2.2 IP, 4 run, 4 BB peformance, but when the bullpen held those up and the offense couldn't manage anything, the Bats snatched victory from Miller's hands.
About JJ's rain shortened start, he'll probably resume his normal spot in the rotation and pitch this Friday, though it is possible they may elect to use him on Wednesday against SD.
Also, I have to note the irony of the start on Saturday being rained out a few hours after the groundbreaking for the new roofed stadium; Samson and Loria couldn't have asked for a better coincidence.
I did make my way out to the groundbreaking, though Rab covered it all in his post, I do want to say that they couldn't have expected that many people to show up. I was there 45 minutes before the gate opened, and I wasn't anywhere near close enough to see or hear anything of consequence, and with the oppressive heat, I had to leave. It was nice to say I was there, but it wasn't worth it to stay for me.
A few random notes:
Samson announced we will see new uniforms for the team when they make it into the stadium. Him and Loria seem to love Orange, but my dream is that they keep the home whites with pinstripes, as I think those are some of the classiest threads in all of baseball.
The seats in the new stadium will be blue, it has been confirmed. Would've liked to have seen teal, though the front office seems to not care for that color. It's a shame, as the fans seem to like the colors.
I'll do a trade deadline preview, a stadium breakdown, and try to get a stadium countdown up soon so keep an eye for that stuff.
Tags: David Samson, Florida Marlins, Jeffrey Loria, Josh Johnson, new stadium, Philadelphia Phillies
Posted in Florida Marlins, Loss, Philadelphia Phillies, Post game, Uncategorized | No Comments »